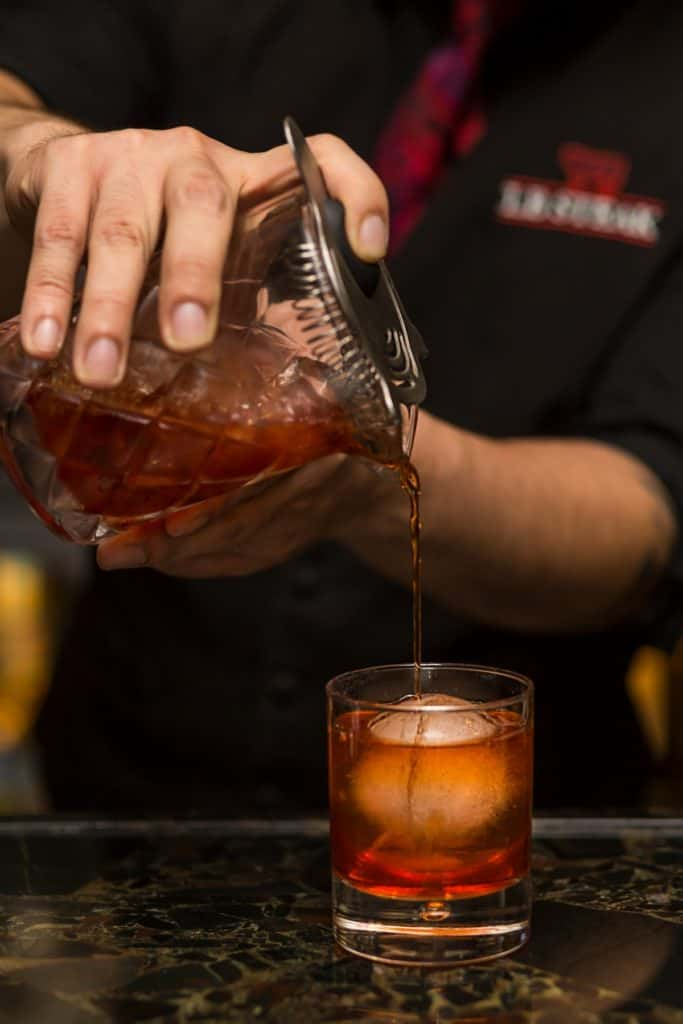 STEAKHOUSE STAPLES
STEAKHOUSE STAPLES
Steak and whiskey go together like bread and butter. The sweet, oak flavor of whiskey is a natural partner of the rich, smokey steak. For this reason, we have rounded up a group of staple cocktails that pair perfectly with any of our steaks dishes. All of our Steakhouse Staples comprise of either whiskey, bourbon, cognac, or rye.
OLD FASHIONED: WILD TURKEY, BITTERS DUO, GOMME
The Pendennis Club, a gentlemen's club founded in 1881 in Louisville, Kentucky, claims the Old Fashioned cocktail was invented there. The recipe was said to have been invented by a bartender at that club in honor of Colonel James E. Pepper, a prominent bourbon distiller, who brought it to the Waldorf-Astoria Hotel bar in New York City. With its conception rooted in the city's history, in 2015 the city of Louisville named the Old Fashioned as its official cocktail. The Old Fashioned is a cocktail made by muddling sugar with bitters, adding whiskey or, less commonly, brandy, and garnished with a twist of citrus rind, however, it can be made with bourbon or rye whiskey as well.
MANHATTAN: BARREL AGED, BULLEIT RYE, MARTINI & ROSSI VERMOUTH RUBINO, AZTEC BITTERS
The Manhattan originates from the Manhattan Club in New York City in the early 1870s. The original Manhattan was a mix of American whiskey, Italian vermouth and Angostura bitters. Many bartenders have their own variations of this drink and the ingredients can be interchangeable with American whiskey, bourbon, rye and other bitters, syrups, and juices may be used.
SAZERAC: OLD OVERHOLT RYE, PEYCHAUD'S, KINA L'AÉRO D'OR, ABSINTHE
The Sazerac is an important part of New Orleans cocktail culture as it originated at the Sazerac Coffee House where Aaron Bird, the proprietor began preparing Sazerac cocktails with bitters made from the local apothecary, Antoine Amedie Peychaud. It is a variation of a cognac or whiskey cocktail, named for the Sazerac de Forge et Fils brand of cognac brandy that served as its original main ingredient. Traditionally, it is prepared with a combination of cognac or rye whiskey, absinthe, Peychaud's Bitters, and sugar.
WHISKEY SOUR: JACK DANIEL'S SINGLE BARREL, LEMON, EGG WHITE, PORT FLOAT
The recipe itself was first written down in the 1862 book The Bartender's Guide by Jerry Thomas. There are several variations of this drink but it usually contains bourbon (you can use any whiskey), lemon juice, sugar, and egg white. The addition of the egg white makes it an unlikely cocktail but adds a frothy texture to the drink.
BLOOD & SAND: GLENFIDDICH, SHERRY, BLOOD ORANGE, CARPANO ANTICA
Named after Rudolph Valentino's 1922 bullfighter movie Blood and Sand, this drink is made of Scotch whiskey, blood orange juice, sweet vermouth, and Cherry Heering.
SIDECAR: REMY VSOP, TRIPLE SEC, LEMON
Believed to have originated at The Ritz hotel in Paris, the name comes from the motorcycle attachment. Sidecar is a term bartenders use for the leftover liquor they pour into shot glasses. It is traditionally made with a brandy, orange liqueur, and lemon juice, closely related to the brandy crusta which originated from New Orleans. Some believe the sidecar originated from New Orleans for this reason. The first recipes for the Sidecar appear in 1922, in Harry MacElhone's Harry's ABC of Mixing Cocktails and Robert Vermeire's Cocktails and How to Mix Them. It is one of six basic drinks listed in David A. Embury's The Fine Art of Mixing Drinks (1948). Vermiere states that the drink was "very popular in France. It was first introduced in London by MacGarry, the celebrated bartender of Buck's Club." Embury credits the invention of the drink to an American army captain in Paris during World War I and named after the motorcycle sidecar that the captain used.
Come try any of our Steakhouse Staples with one of our steak dishes today!